THE BATTLE OF GETTYSBURG
THE HIGH WATER MARK OF THE CONFEDERACY- JULY 1, 2 AND 3, 1863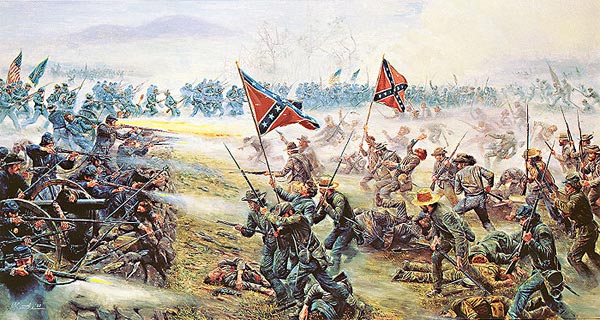 In July of 1863, General Robert E. Lee's Army Of Northern Virginia, 75,000 men strong, and the 97,000 man Union Army Of The Potomac under General George G. Meade met, by chance, when a Confederate brigade sent forward for supplies observed a forward column of Meade's cavalry.
Of the more than 2,000 land battles of the Civil War, Gettysburg ranks supreme. Although the Battle of Gettysburg did not end the war, and did not achieve any major aims for the North or the South, it remains the great battle of the war.
More men actually fought, and more men died, at Gettysburg than in any other battle before or since on North American soil.
The Battle of Gettysburg was a turning point in the Civil War. The Union victory ended General Robert E. Lee's invasion of the North. Often referred to as the "High Water Mark of the Confederacy", it was the war's bloodiest battle with 51,000 casualties. It also provided President Abraham Lincoln with the setting for his most famous speech.
The links on this web site will provide information about the battle, how it ended, what it meant to the armies, and Abraham Lincoln's Gettysburg address.

This site maintained by Larry Haft.
Last updated on:

The Battle - Day 1
The Battle - Day 2
The Battle - Day 3
General Meade - The Victor
General Lee - The Defeated
The Gettysburg Address
Scavenger Hunt
Additional Sources
My Web Quest




Email: h23154@aol.com