DAY 2 AT GETTYSBURG - A LOT OF FIGHTING BUT NO WINNER YET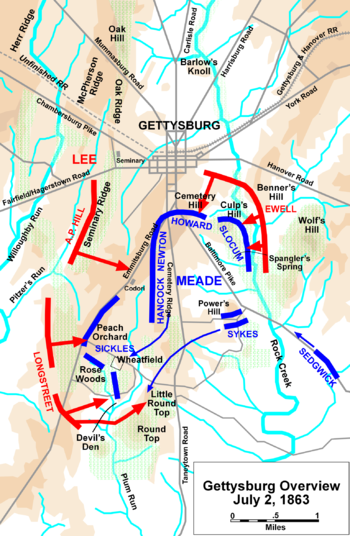 Day 2
As the first day at Gettysburg ended the Union held the best terrain in the area and was soon to hold the advantage in numbers, too. The rest of the infantry in the Army of the Potomac had straggled in over the course of the night, and were busy getting plugged in to the line.
On July 2, Lee attempted to outflank the Union troops, first striking the Union left flank at the Peach Orchard, Wheatfield, Devil's Den, and the Round Tops, Big and Little, with Longstreet's and Hill's divisions, and then attacking the Union right at Culp's and East Cemetery Hills with Ewell's divisions. By evening, the Union retained Little Round Top and had repulsed most of Ewell's men. Little Round Top was a critical piece of land because it was a perfect spot from which artillery could cover the battlefield
Nothing much had changed after a day of fierce fighting, but the stage was set for the climax that would decide the battle, and with it, the war.
http://americanhistory.about.com/od/civilwarbattles/p/cwbattle_getty.htm
http://www.historynet.com/battle-of-gettysburg-day-two.htm
Credits and Reources
Good source of information from Penn State
Terrific Detail And Maps Of The Armies' Movements During The Day.
From America's Civil War Magazine.
Return To Home Page.

Email: h23154@aol.com