GENERAL GEORGE GORDON MEADE
THE VICTOR AT GETTYSBURG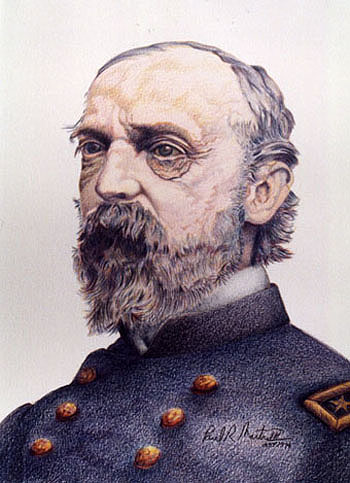 The Battle of Gettysburg occurred just three days after General Meade's appointment to command the Army of the Potomac. Meade arrived on the battleground late on July 1st. He decided to fight a defensive battle on the ground south of the town then held by his army. The following day saw some of the bloodiest fighting of the war as Robert E. Lee's Confederate army attacked both flanks of Meade's line, but determined Union veterans threw Lee's equally determined back.
That evening, Meade eagerly sought the advice of his most trusted officers during a "Council of War" at his headquarters. To a man, the officers encouraged him to stay and fight the battle out to a final conclusion. The last day of the battle may have been Meade's finest hour when an aggressive Union defense thwarted Pickett's Charge, the last Confederate hope for victory.
Gen. Robert E. Lee some years after the war commented: "Meade, in my judgment, had the greatest ability. I feared him more than any man I ever met upon the field of battle."
http://www.paulmartinart.com/GenGeorgeMeade.html
This memorial stands in Philadelphia's Fairmount Park: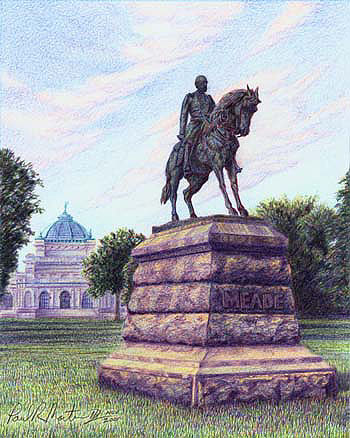 Credits and Resources

Images
Union General George Gordon Meade
The Life and Letters of General Meade - The Ny Times, June 13, 1913.
Return to Home Page

What do you know about General George Gordon Meade?
Was he successful after Gettysburg?
Look at the memorial to General Meade. Does it matter that the horse has all four legs on the ground?
What did General Meade do after the Civil War?
Was General Meade criticized after his victory at Gettysburg?

Email: h23154@aol.com